When I was about 11 years old, my father, the coach of our rec league softball team, taught me about the squeeze play. While there are a few variations, the basic squeeze play involves a runner on third base and a sacrifice bunt by the batter so the runner on third can score. It's an aggressive and strategic move often used in the late innings of a close game to score the winning or tying run. If you've ever witnessed a squeeze play, you know you've just seen something pretty special happen.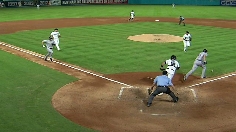 The beauty of the squeeze play is that it requires nothing less than a perfect bunt by the batter, a runner at third with a good lead, and a gutsy coach willing to call the play. Done well it is almost impossible to defend against. Sure, a home run is an exciting way to win a game, but it requires one person to do a pretty big job.
The same goes for innovation.
As predicted, businesses are seeking growth from innovation and new product development this year with a general sense of optimism returning and R&D spend on the rebound. However, hiring is not on the same trajectory, leaving internal teams and resources constrained. As a result, businesses are feeling the squeeze to meet performance goals and looking to make their next strategic move to score those winning "runs."
On June 1 Bill Poston will talk about "The Squeeze Play" in innovation when he returns as a featured speaker to the second annual PIPELINE conference, a virtual event which brings experts and colleagues together online to discuss innovation, product development, and product portfolio management.
"The Squeeze Play" will discuss how the logical and traditional approach of improving portfolio, pipeline, resource, and program management is necessary but often insufficient to meet expectations. Bill will evaluate the use of private expert networks, customer communities, independent gatekeepers, and other semi-open innovation techniques to combat overloaded pipelines and execute innovation squeeze plays.
If you're in the product development and innovation space, you definitely don't want to miss this event so secure your spot today.
Just like in baseball, swinging for the fences in innovation isn't always the way to win the game. A squeeze play that executes on the fundamentals but incorporates collaborative techniques can deliver the same results with less effort.